Welcome to Image Approvals! This short document will guide you on how to prepare your images for uploading to the platform.
It will cover:
How to tag actors before uploading images.
How to create low resolution JPG copies of your images
This article is for production user accounts who are managing the entire approvals process in-house.
If you are a photographer who is just uploading images for the production to tag later, you can skip step 1 and go to step 2.
If you have a front-end only account, ignore this article and instead find out how to tag actors in images once they are already uploaded to the platform.
---
Before we begin…
PLEASE DO NOT RENAME ANY IMAGES ONCE YOU BEGIN THIS PROCESS – YOUR RAW FILES SHOULD HAVE THE EXACT SAME FILENAME AS THEIR LOW RES JPG COPIES – THIS IS THE MOST IMPORTANT THING TO REMEMBER.
---
Before images are uploaded, they must be tagged with the names of the actor(s) who appear in them and who have image approval rights.
Actors who do not have image approval rights do not need to be tagged, however, in case actors are retrospectively granted approvals rights, it is recommended you pre-emptively include them in your initial tagging run if you anticipate this happening: doing so will save you lots of time in that eventuality as well as prevent actors needing to re-approve images whose status may change (eg from a solo to a group) if it is done retrospectively.
You can tag actors one at a time in the Image Approvals platform, however, we recommend doing your tagging in Adobe Bridge prior to uploading and creating your low res JPGS as it will be much quicker for you and enable you to keep the metadata saved on the original image.
You can download a free copy of Adobe Bridge here.
Open Adobe Bridge and navigate to the folder of images you wish to tag. Click here if you have received multiple file formats of each image from your photographer and you are unsure which images to tag.
Ensure you are viewing your images in the Essentials workspace and have thumbnails large enough for you to be able to clearly identify actors.
You can find the Essentials workspace tab in the top centre or top right of the screen depending on how wide your viewing window is and you can use the slider at the bottom right of the screen to adjust thumbnail size.
Go through your images and select consecutive shots that feature all of the same actors. Right click and select File info. This will open the metadata modal.
Select the IPTC Extension tab on the left-hand side.
In the Person Shown field, add the names [First Name Surname] of the actors with image approvals rights who appear in the image(s). Be careful to spell actors' names correctly otherwise they will not see their images. Separate each actor's name with a comma or semi-colon. E.g: Sara Symmons; Anton Lester
Click OK and continue through your images.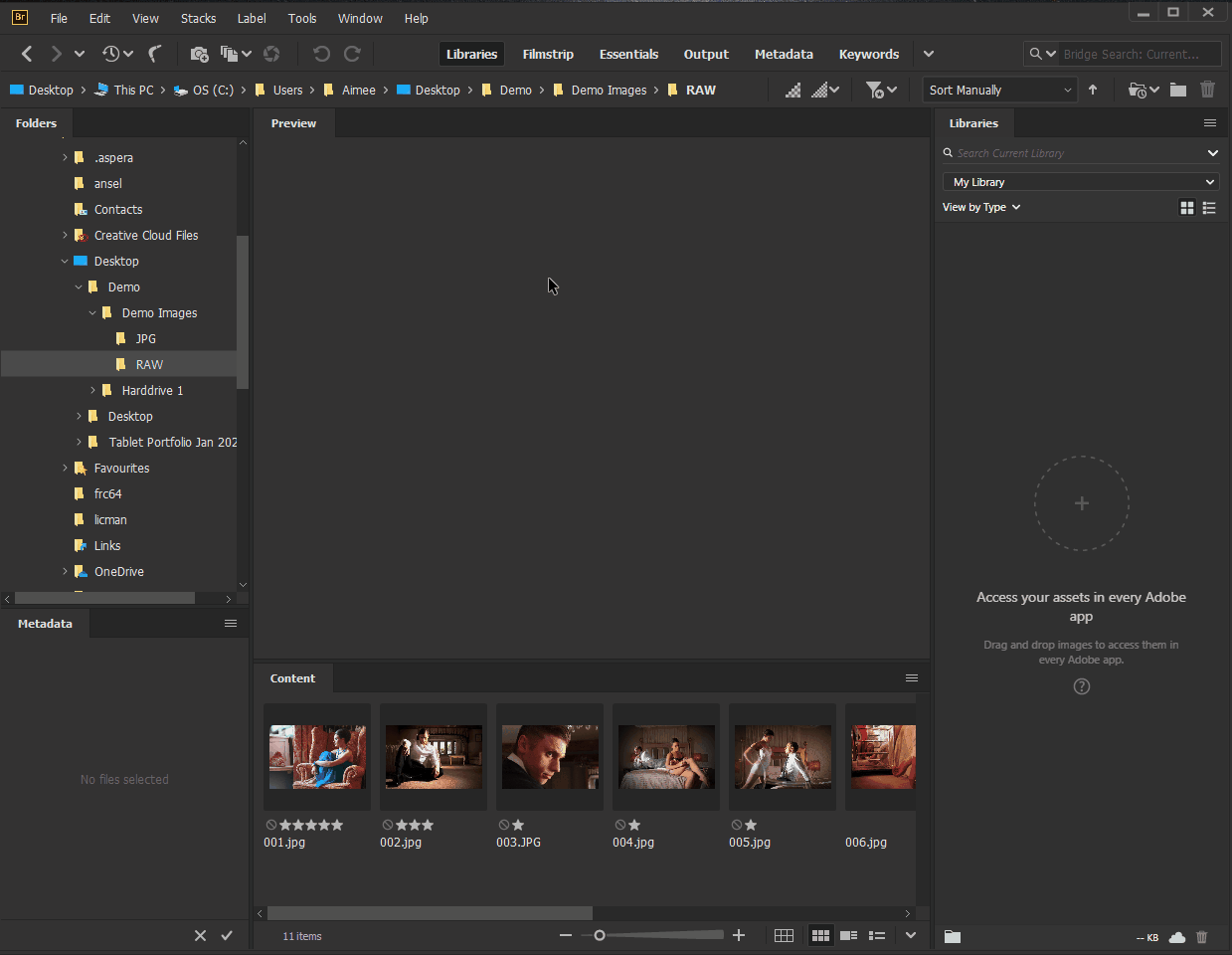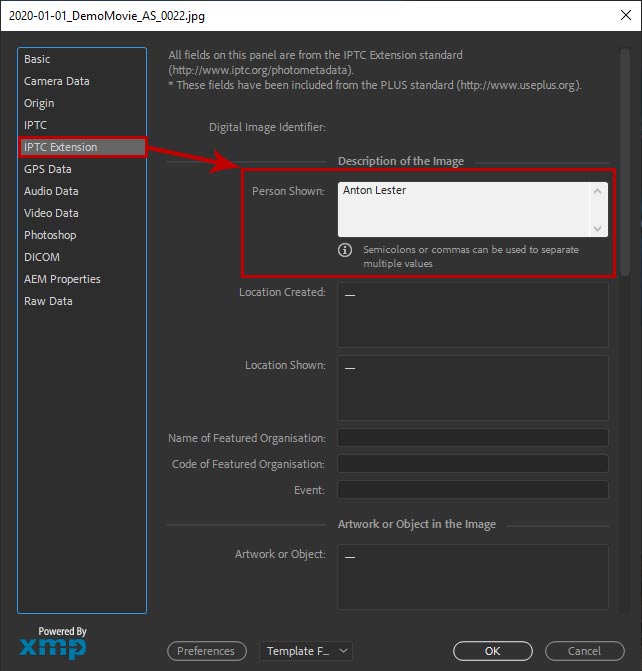 Images must be uploaded at 1000px on their longest side and be under 500mb in size.

You can automatically create duplicate versions of your images to these specifications by doing the following:
Download and install a free copy of Adobe Bridge here.
Open Adobe Bridge:

Select all of your tagged images.
Right click and select Open in Camera Raw
Select all images and click Save Images
In the Save Options box, select the below options:

Select folder: create a new folder within the production folder for low res images to be saved into. Make sure this folder is created within the parent folder of all of the production stills, and not within a subfolder. This is important for later*
Format: JPG
Metadata: All
Quality: Limit File Size To: 500k and tick the box
Image Sizing: Resize to Fit: W:1000 H:1000 pixels
Resolution: 300 pixels/inch
Click Save.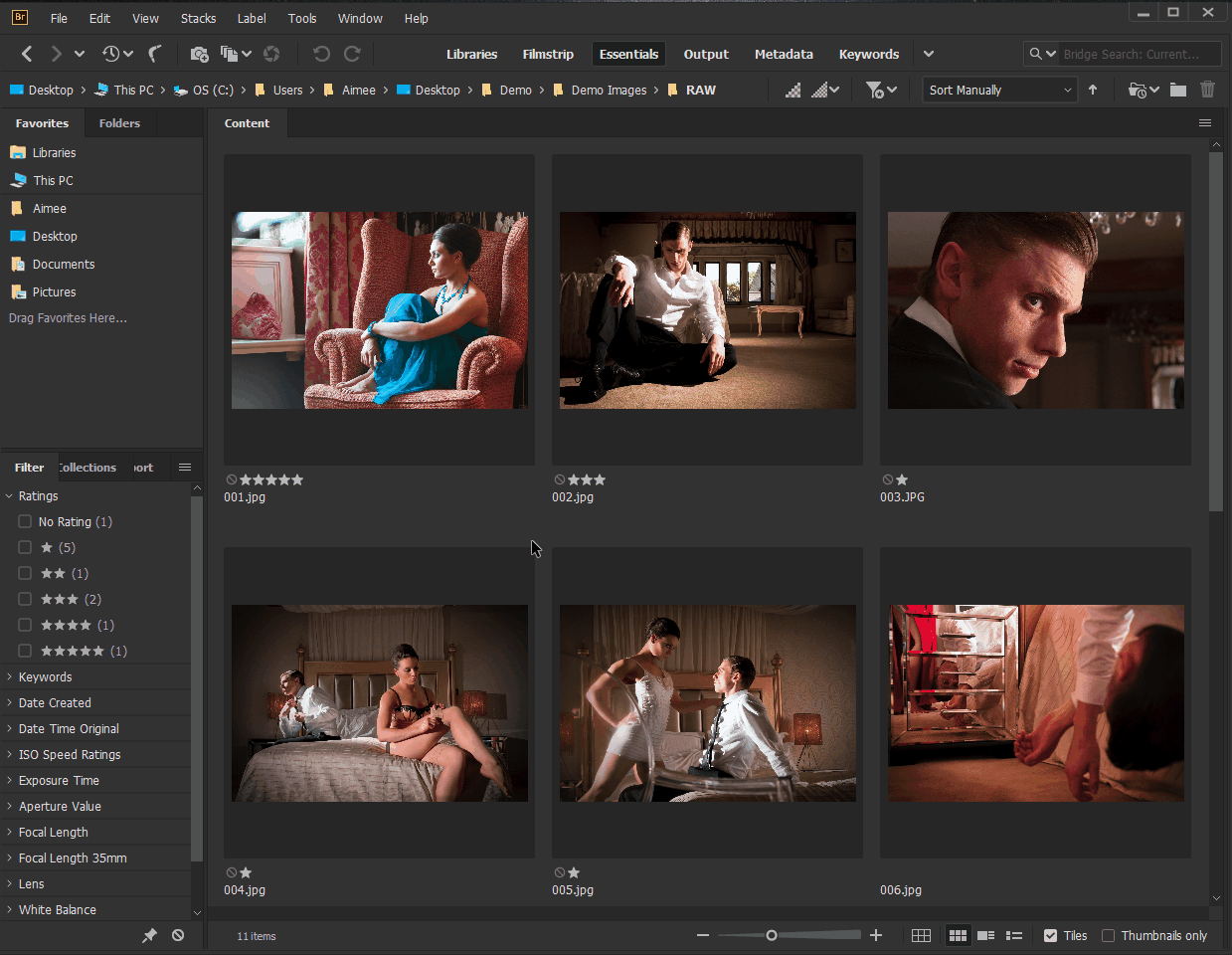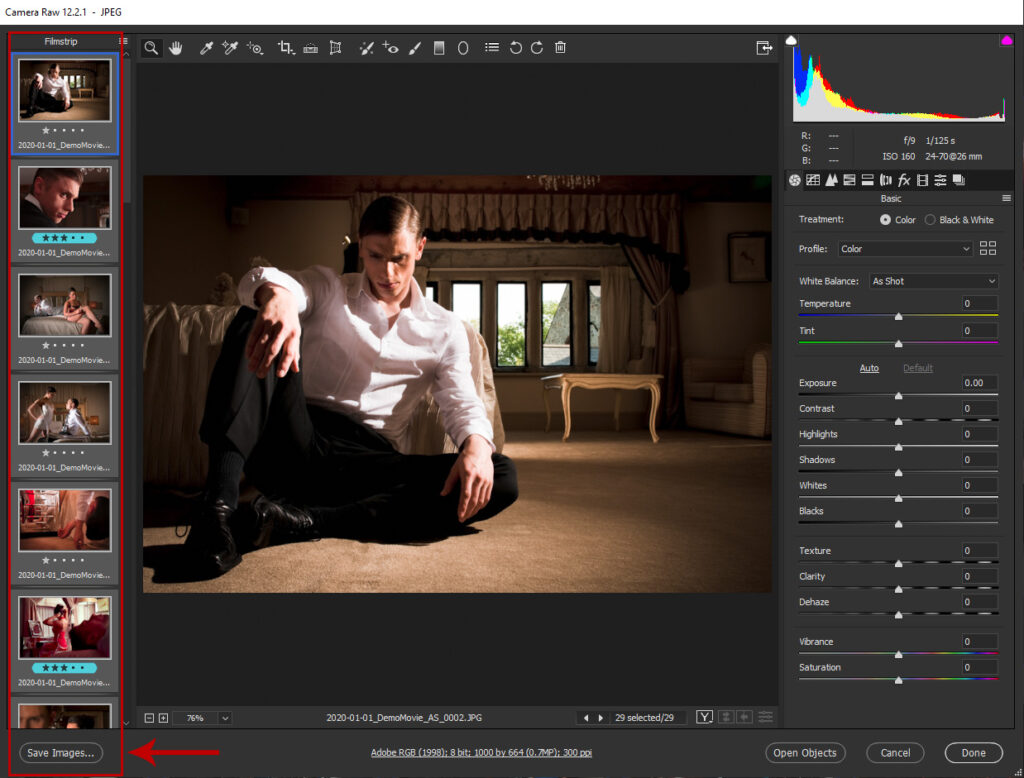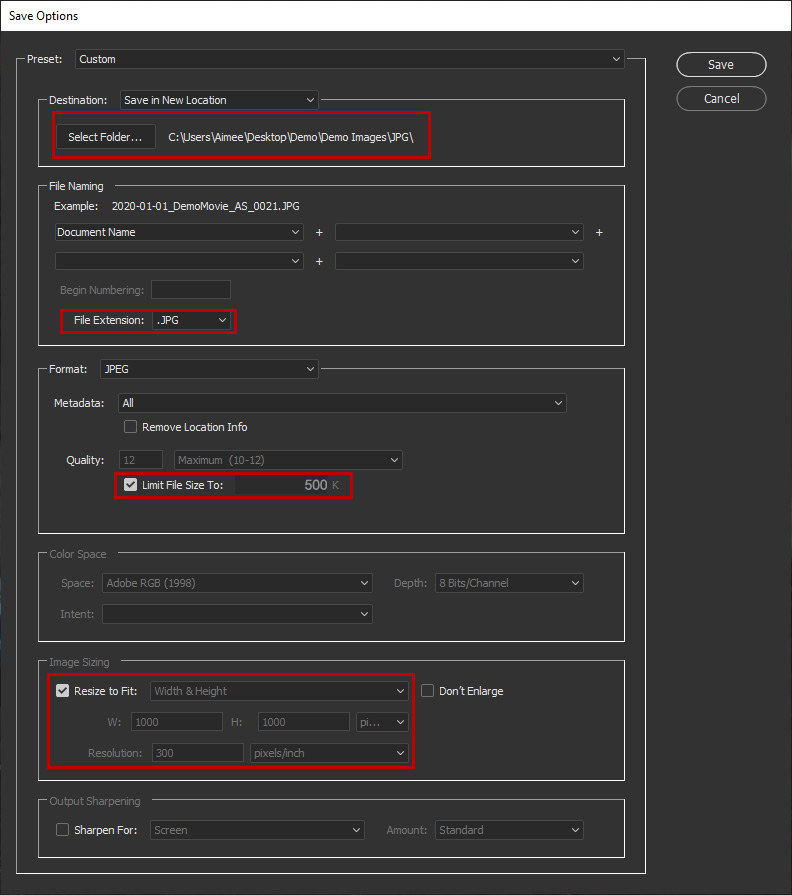 *It is important that your folder structure is one level deep eg:
Production Stills:
> Day 1 RAW
> Day 1 JPG Full Res
> Day 1 JPG Low Res
> Day 2 RAW
> Day 2 JPG Full Res
> Day 2 JPG Low Res
Not:
> Day 1
>>RAW
>>JPG Full Res
>>JPG Low Res
> Day 2
>>RAW
>>JPG Full Res
>>JPG Low Res
This is important because when approvals are complete and you run our script to automatically sort all of your images into killed, unkilled and unkilled selects, it will only include images up to one folder deep within the parent folder.
Done!
Great – your images are now ready to upload to the Image Approvals platform! Check out the link below for a step by step guide on how to do this.