Now that your images are all neatly named and organised in a clear, single layer folder structure, you're ready to upload them!
Even though you may have multiple file types of each image, you only need to upload the low res JPG versions of them to the platform.
If you only want to upload a select number of images from each shoot day/folder of images, get in touch with your contact at Image Approvals first as there are additional things to consider if doing this.
---
Before you continue:
In order for actors to be seen in their images, they first need to be tagged in them. There are two ways to do this:
With Adobe Bridge before uploading. – will save you lots of time if you have large quantities of images as you can tag images in bulk. Just follow Step one in the link above then return back here.
After uploading using the Image Approvals platform. – simpler option for small quantities of images. Images are tagged one at a time.
Please check out these options first to decide which one is right for you.
---
Logging in and setting your password.
Log in to the back end of the system by visiting api.imageapprovals.com
If you do not have your login details, please contact info@imageapprovals.com
For security reasons, it is recommended you change your password to something memorable when you first log in. To do this, click on 'change password' in the left-hand menu.
Uploading your images
After logging in, you'll be taken to your dashboard. Click on the Productions tab in the left-hand menu and you will see the list of productions you have access to.

We have already set up your first production, so click Edit to open it.

Here you will see the actors attached to your production along with their kill percentages. You can set their solo and group allowances separately here. Remember, these are their kill percentages not their approval percentages.

At the bottom of the page, we recommend adding one of your unit photographs as a featured image so that your actors can easily identify the production when they log in to the front end of the platform.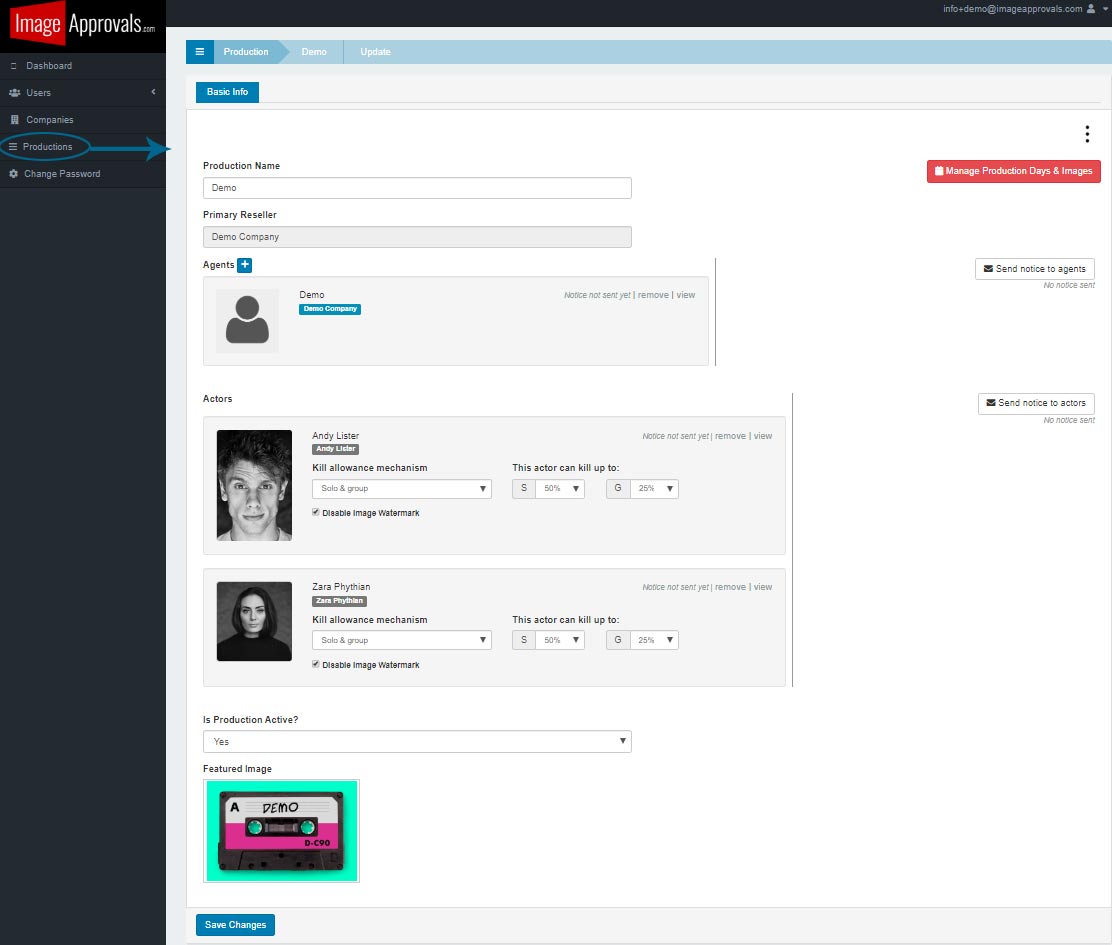 Click the red Manage Production Days and Images button in the top right corner.

For each new shoot day, click Create New Production Day and fill in the name (we recommend using the shoot date) and the date the images were shot.

You can now upload images to this day by clicking view and Add Images.

From here you can drag and drop your images into the uploader. Please note you can upload a maximum of 500 images at a time. Once you have dragged your images into the box, wait for the progress bar to reach 100%, then click Upload. Only click this once otherwise you will upload the files twice. Once the upload is complete, the page will automatically refresh.

Once your images have uploaded, a green update box will appear, confirming that your images and their tags have been uploaded correctly. You can go ahead and close this by clicking the X in the top right of the box.

Navigate back to the Day List page by using the blue navigation bar at the top of the page.

Continue creating new shoot days and uploading your images.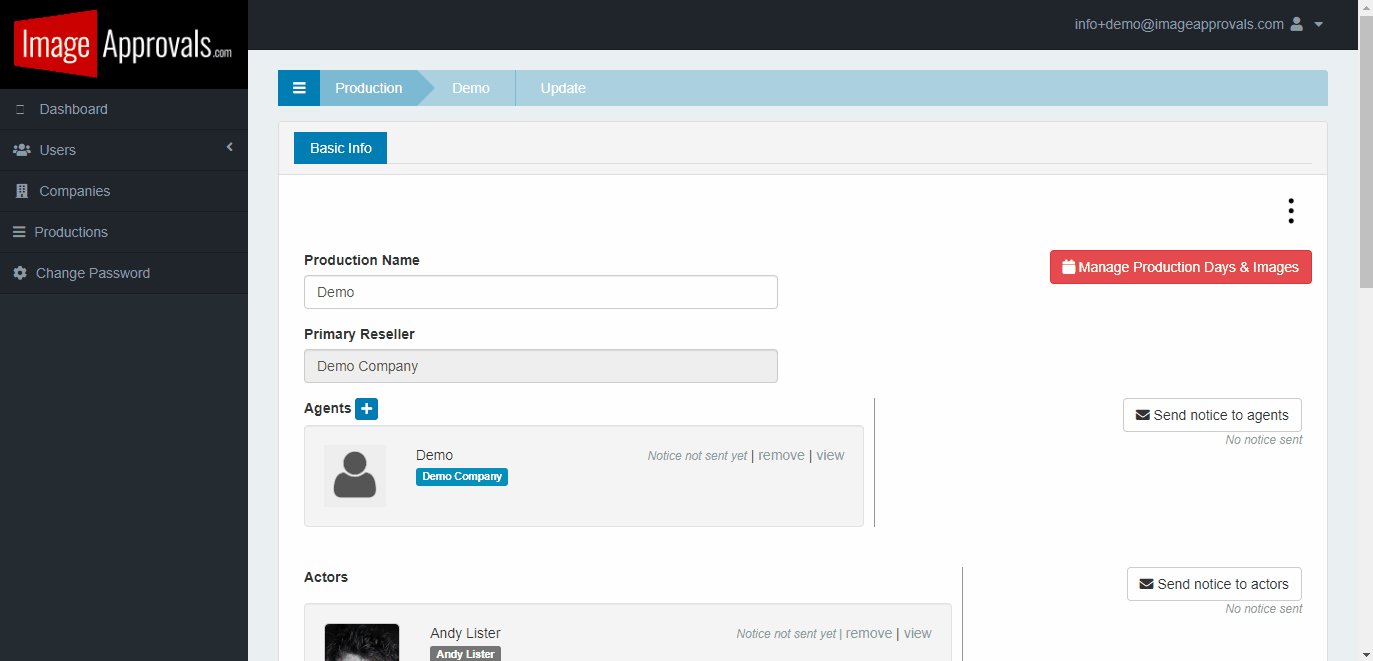 Checking for errors
If you tagged your images before uploading them, you can quickly double-check and correct any errors such as spelling mistakes by following these easy steps:
Once you have uploaded your images for each day, navigate back to the production summary page.
Any obvious tagging errors like spelling mistakes on actors' names can be found by looking at your list of actors. Typos will appear under your list of actors with a warning icon to the right of them.
To correct typos in tags, just click on the three dots in the top right of the production summary page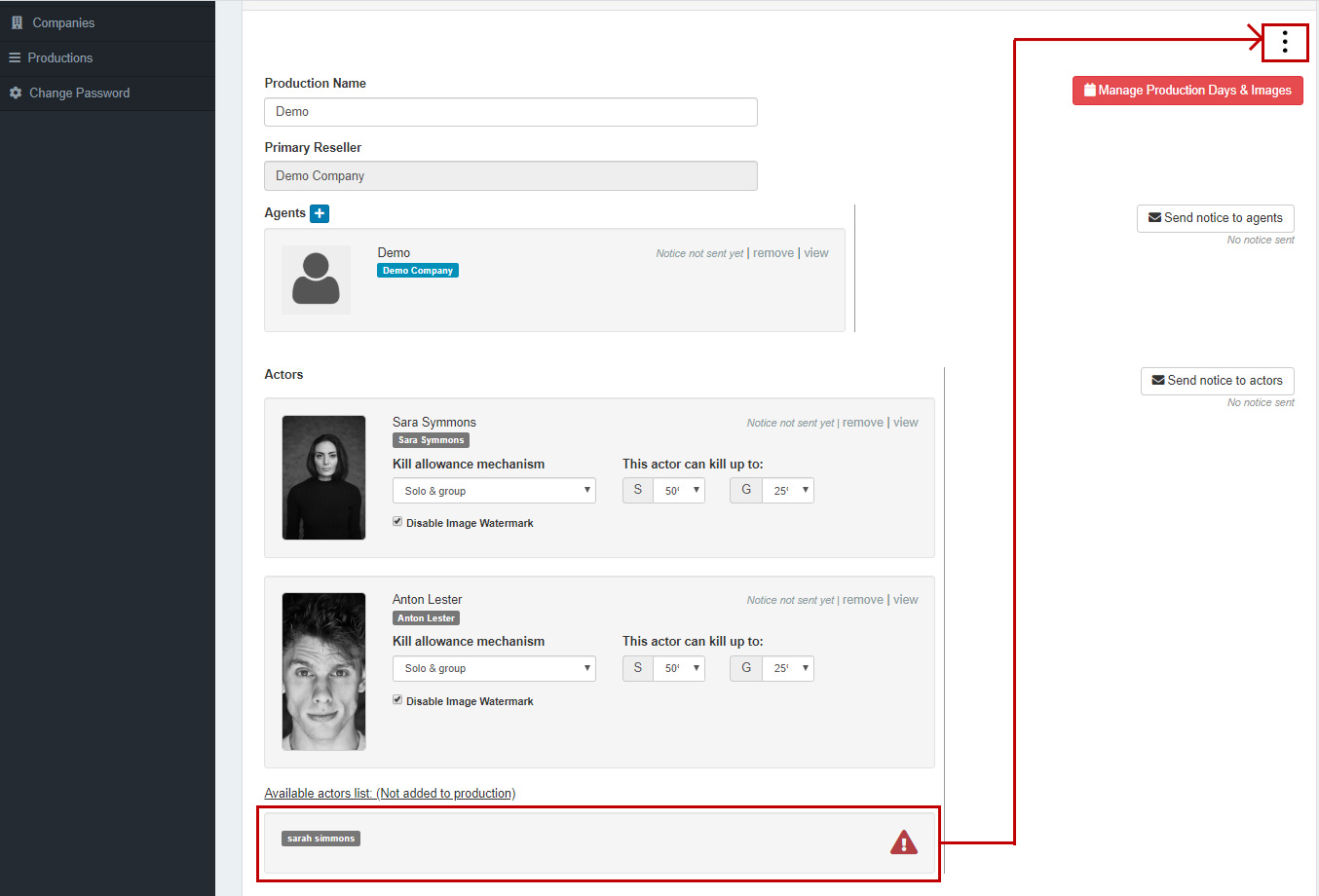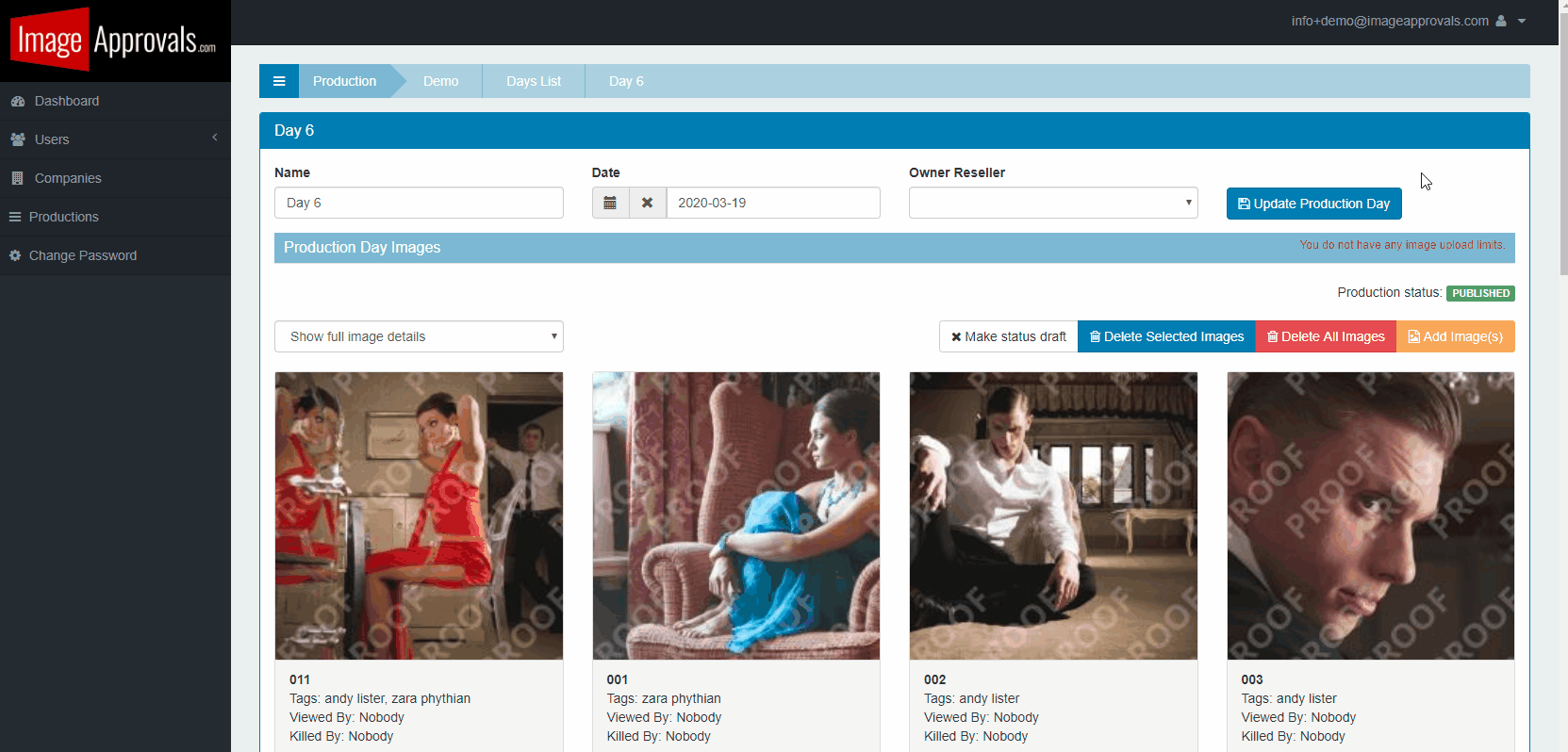 Going Live
Once you have created all of your folders and have checked all is correct, click the green Go Live button next to each one then navigate back to the production summary page and make sure the production is marked as Active on the bottom of the page.
Next Steps
Congratulations! Your images are now on the platform!
If you opted to tag your images on the Image Approvals platform or want to learn how to kill or mark images as a select, click the button below to move on to the next step:
If your images are already tagged and verified and you don't need to make any kills or selects, then you can jump ahead to Step 4.